Overlooking Kamogawa river,
enjoy the four seasons of Kyoto by staying in one of our six distinctive guest rooms
Cherry blossoms in spring, fish jumping in the light in summer,
Higashiyama mountain turning crimson in autumn, and white snow in winter.
Visitors will be greeted by a different scenery each time they come.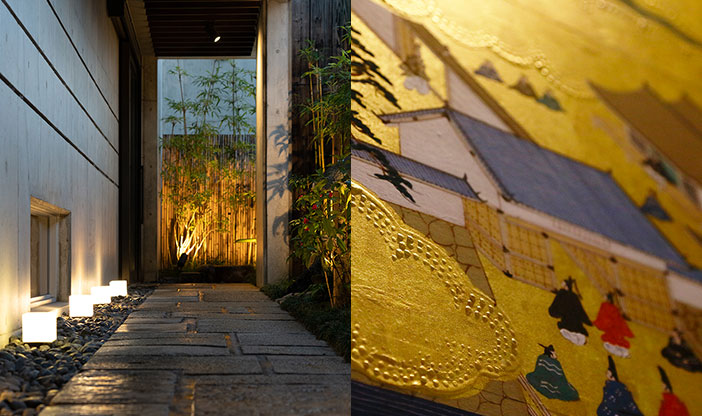 OPTION
Available for free-of-charge rent
ABOUT MEALS
This is a basic accommodation plan without meals, but we accept deliveries of dinner and breakfast (*charged), as well as help with restaurant reservations and referrals.
Please feel free to inquire about these services.

[Delivery: Sample] *Charged

[Breakfast - Western cuisine]

Aoi Hotel Kyoto x B STORE
Enjoy a luxurious atmosphere with a view of the Kamo River and a special menu only for our hotel guests.
1 minute walk from Aoi Hotel Kyoto.
140-25 Saito-cho, Shimogyo-ku, Kyoto-shi, Kyoto

[Breakfast - Japanese cuisine]

Isuzen, a restaurant found inside Kyoto's Daitokuji temple specializing in vegetarian cuisine, will deliver vegetarian breakfast to your room.
The dishes from this restaurant do not use meat and seafood, but only ingredients such as grains, beans and vegetables, in accordance with Buddhist teachings.
INFORMATION
Check-in/Check-out
2:00 pm (Final check-in: 10:00 pm)/11:00 am
Number of rooms
6 rooms
We accept local cards
VISA, Master, JCB, Amex, Diners
Cancellation policy
We will charge you the following cancellation fees.

On check-in date

100% of the accommodation fee

1 day before check-in date

80% of the accommodation rate

7-13 days before check-in date

50% of the accommodation fee

14 days or more before check-in date

30% of the accommodation fee

No-show without contact

100% of the accommodation fee

Parking lot
None
Address / TEL

600-8013 146 Tenno-cho, Futsugo-ji-agaru, Kiyamachi-dori, Shimogyo-ku, Kyoto

TEL.+81-75-354-7770